Copywriting & Content Writing: What Are the Differences?
Writing is not just putting some words together to form a sentence, it's an art. A good writer is not someone who can simply write, it's someone who has a creative mindset, great research skills, and of course content writing skills. 
But when you think about forms of writing, there are mainly two forms: content writing and copywriting. Both may seem the same, but even with so many similarities and skill requirements, there are a lot of differences. Let's gain clarity about both forms of writing and what exactly your company requires to achieve success. 
What Is Copywriting?
Copywriting is a form of persuasive writing. Every written article that is written in a way to persuade customers to take action is copywriting. It's a form of marketing that is used to sell goods and services. Copywriting is writing texts to increase brand awareness but the ultimate goal is to persuade a person or a group to take an action like buying goods. That's why a written copy is also known as a sales copy because it encourages the reader to take an action rather than just read and leave.
Copywriting includes many forms of writing texts which are SEO copy, ad copy, email campaigns, landing page copy, web page copy, video scripts, billboards, direct mailers, and social media.
What is Content Writing?
Content writing is a form of informative writing. Any written text that has the main purpose of distributing some knowledge about the brand and its products or services without any implementation of taking some action is called content writing. It's the process of writing, editing, and publishing content in order to impart some knowledge about the brand. It's a form of written communication.
Content writing includes many forms of writing texts which are articles, blog posts, press releases, white papers, newsletters, podcasts, website content writing, print magazines, and ebooks.
The Key Differences In Copywriting And Content Writing
1. The main goal of copywriting is to sell or persuade a person to take action whereas the main goal of content writing is to inform, educate and entertain readers.
2. Copywriting is a form of persuasive writing whereas content writing is a form of informative writing.
3. A copy is mostly of short format or fewer words. The content on the other hand is of long format or many words.
4. Any form of ad copy, online or offline, slogans, taglines or landing page content comes under copywriting. Content writing includes long-form writing such as articles, blogs, emails, website content writing, newsletters, and so on.
5. A good copywriter understands SEO although the use of SEO is limited. Whereas, SEO is a major part of content writing and hence a content writer has expert knowledge of SEO.
6. Content writing helps to generate organic traffic and copywriting converts that organic traffic into leads.
What Skills Are Required For Content Writing And Copywriting?
The major skill that is required for both copywriting and content writing is obviously writing. But there are certain sets of skills that are required for copywriting and content writing. Let's find out what those skills are.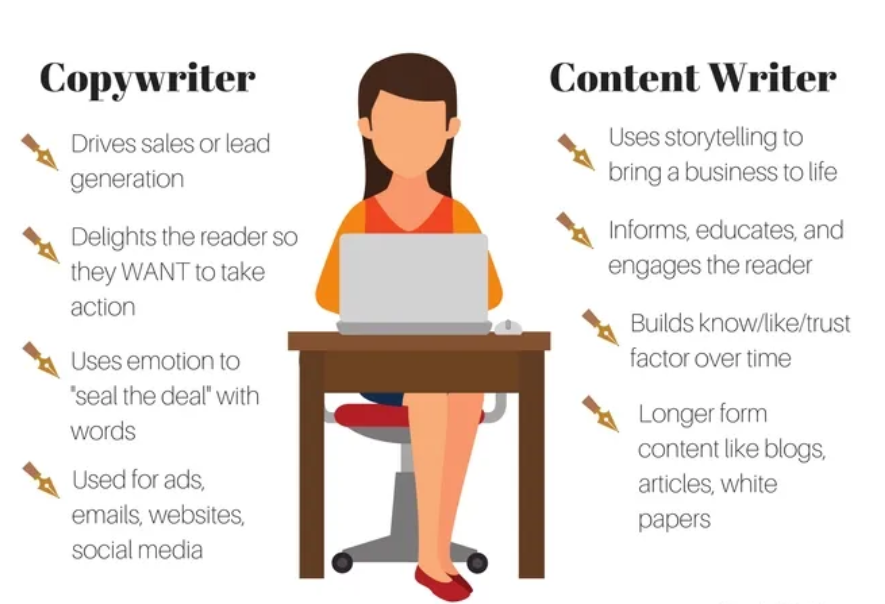 Content writing requires certain skills that are editing, content creation, communication skills, good grammar and vocabulary, ability to read calmly, ability to accept feedback, research orientation, SEO, knowledge of the content writing tool, effective time management, and organizational skills.
Copywriting requires certain skills that are all skills that are required for content writing skills along with one most important skill which is the ability to persuade people into doing something. These skills include emotional understanding, logical reasoning, interpersonal communication skills, and negotiation skills.
Does My Company Require Copywriting Or Content Writing?
Your company requires both content writing and copywriting for successful business and growth. Without awareness of your brand and the values you follow, you won't be able to gain any customers.
Content writing helps in long-term success by generating organic traffic on your website and social media pages. It helps to increase brand awareness, communicate better and build a community of potential customers. Content writing helps your business by imparting knowledge about your products and how they're better than your competitors. It gives you a creative way to tell people about who you are.
Copywriting is equally important because what are you supposed to do with so much traffic when nobody's buying anything? And copywriting is the only most effective way to persuade people and turn potential customers into true customers. Although the success of copywriting can be measured in a short span, without creative copywriting, your business can't sell.
That's why both content writing and copywriting is important for your business. And it's even better if you can find a copywriter with content writing skills because, after all, it's all about writing.
Remember, there's time to persuade and convince but it's not all the time. The other times are about just delivering your message.